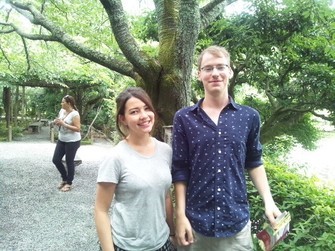 Dear Nobu-san,
Now that we've returned to Tokyo and I finally have a bit of time to rest and reflect, I am very grateful that it is the magnificent day spent in your company that is freshest in my mind; we certainly saved the best for last. Although our time in Kyoto up until your tour was great deal of fun--if in a slightly haphazard kind of way--I couldn't help but feel a lingering sense that maybe we'd missed out on some of Kyoto's profound depth. After your tour, these worries were put to rest. Your knowledge of Japanese culture bridged painting, literary, culinary, and religious traditions which expand over a millennium or more. Suffice it to say that you are the only taxi driver I've ever had who could both recite poetry, teach meditation, and recommend good sake! For those looking for a custom-tailored and comprehensive Kyoto experience, I can't recommend Mr. Nagata enough.
I would be delighted if you were to use my testimonial on your website.  I really did enjoy it--Watanabe-san and I were just discussing your final Soseki (Japanese novelist) flourish at Otagi-nembutsu-ji with delight. All the best in your upcoming guide-engagements!
Best,
Elliot Wright,
** *** ** *** ** *** ** *** ** *** ** *** **
Dear Mr. Elliot Wright,
Thank you for your message.
I really appreciate you allowing me to use your review to my website.
You have profound knowledge about Japan.
I hope I will be able to take you to my favorite places next time.
Please give my best regards to Watanabe-san and Brenda-san.
Sincerely Regards,
Nobuaki Nagata(Nobu)