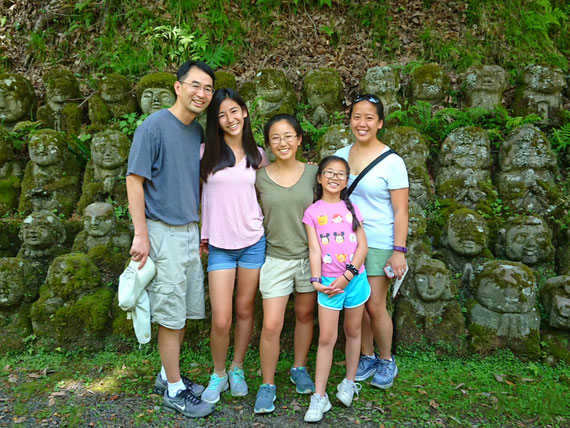 "Excellent in every way"
We are a family of 5 (kids aged 10-16) visiting from the US. 
We do not know any Japanese. 
We wanted to spend just a day or two in Kyoto and had originally looked into booking a tour through a travel agent. 
Contacting these guys directly was so much better. 
They are honest, easy to do deal with, and very flexible. 
A few emails prior to the visit is all you need to arrange a meeting time/place and to let them know if there are any specific places you want to see. 
As other reviewers noted, you can also just leave the itinerary to them. 
Our guide was Nobu. He was excellent. His English is great, so communication was easy. 
His minivan was pristine, well-air conditioned, and comfortable. 
He is a good driver and knows a great deal about the various shrines and temples in Kyoto. 
He is very flexible, so the pace of the tour can be whatever you want it to be; and he is very helpful taking pictures, so the whole family can be included. 
Maybe best of all, he is extremely fair and honest. We had originally planned to hire him over 2 days, including stops in at the monkey park and bamboo grove in Arashiyama. As it turned out, we booked one night at a ryokan, which was just a few steps from those two spots, so he suggested we do those on our own to save us from paying for that time. 
He also said that if did not really need him for the second day, we could cancel without a fee. 
Of course, we did not cancel day 2 because we were having such a good time with him as our guide. 
The details of our trip are as follows: 
1. We took a red-eye and arrived in Osaka (Itami). From there we took the shuttle bus to Kyoto, and Nobu was waiting for us at the stop. 
2. First stop, Fushimi Inari-taisha. 
3. Lunch. It was only 11am in Japan at that point, and he was planning another stop when the kids started to say they were hungry. 
So he asked what we liked to eat and on what budget. 
We said ramen or sushi (maybe something less than 2000 yen/person), and he took us to a small local ramen shop that was great and under 1000/person. 
4. Kyomizudera. Nobu explained a lot to us about the difference between Shinto and Buddhist temples and also about how they coexist. 
He also stops at various points to show us where the best views are. 
5. Drive through geisha district. 
He would have taken us to see the Golden Pavilion to complete all the stops we had requested, but we had decided to defer that until the next day, so he drove us through Gion on the way to our ryokan in Arashiyama, so we could at least see what the area looked like. 
6 (day 2). Otagi Nenbutsu-Ji Temple. This was a smaller temple he suggested, and it turned out to be the kids' favorite. 
He picked us up from Arashiyama later in the morning after we had gone to monkey park on our own. 
7. Golden pavilion. 
8. Drop off at hotel in downtown Kyoto. 
It was starting to get hot at the pavilion, and the kids were getting tired of the temples, so he took us to our hotel next to Kyoto station, and he suggested we check out the mall next door. 
Kids were very happy at the mall. Even though we only spent 3 hours with him on day 2, he did not charge us the usual 4 hour minimum since we had hired him for the previous day. 
We would have been happy to pay him the extra hour for his flexibility. We have nothing but good things to say about Nobu. 
It's too bad we couldn't bring him with us to Tokyo.
From Mr. Irwin Lee, in USA