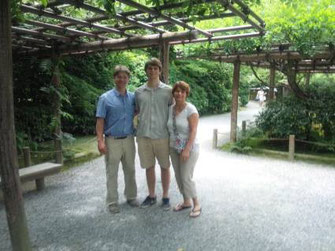 Dear Nobu,
Thanks for the wonderful tour of Kyoto.
We enjoyed everything we visited with you and will cherish our memories of your lovely city. Our only regret is that we did not have more time to spend in Japan- so we will need to come back one day.
Thank you for your recommendation of Itoh(steakhouse) and helping with the reservation. When we arrived they were turning away a lot of people because it was fully booked but we had a wonderful river side table and view thanks to your help and
connections. The dinner was very special, too.
Best Wishes,
 
** *** ** *** ** *** ** *** ** *** ** *** **
Dear Cristopher-san,
Thank you for your kind mail.
Your mail makes me very happy.
I was very impressed your deep knowledge of Japan.
I could also enjoy our tour.
I hope I will be able to meet you in the near future.
Please give my best regards to your family.
Sincerely Regards,
Nagata(Nobu)