---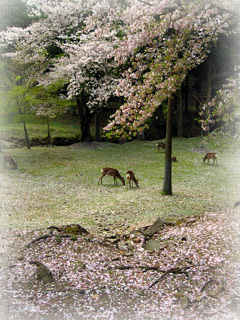 A healing Nara surrounded by a gentle stream of time, the mecca of Buddhism.
Like Kyoto, there are still many temples and shrines today, and you can enjoy the atmosphere of 1400 years ago in Nara, the capital of Buddhism (registered as a World Heritage Site in 1998). Time is flowing slowly.
On our limited itinerary, we will take you to the ancient city of Nara, where you can admire the cherry blossoms, new green leaves and autumn leaves.
It takes about 80 minutes by car from Kyoto to Nara. It will be a one-day course (about 8 hours).
Also, when sightseeing in Nara city, we recommend the Yagyu no Sato, a place ruled by the Yagyu family, such as Jubei Yagyu, who is famous for the swordsmanship school called Yagyu Shinkage Ryui. The birthplace of the samurai.
・ Asuka Period (from the middle of the sixth century to around 670, when Buddhism was officially introduced)
Ishibutai Tomb : The a stone hut ancient tomb with granite patches and the tomb of the deceased was located nearby, so the theory of Umako is widely believed. (Asuka Village)
Hoko-ji Temple (also called Asuka-dera Temple or Gango-ji Temple): In the era of the Emperor Suiko, Umako had Asuka-dera Temple, a half official Uji-dera Temple which had a full-scale building, built. (Asuka Village)
Horyu-ji Temple : A symbol of the Asuka period Buddhism, is a long-established Buddhist temple in Ikaruga. Together with Hokki-ji temple, this venerable structure founded by Prince Shotoku is registered as a World Heritage site for its world's oldest Buddhist monuments and the Japanese adaptation of Chinese architecture. Boasting those masterpieces of wooden architecture, the Horyu-ji area is a treasure trove of religious artifacts listed as National Treasures.
Oka-dera Temple:Established in 663 AD. Ryūgai Temple, or commonly known as "Oka", literally means the "Dragon Lid" temple. The primary Buddha of worship is the Nyoirin Kannon Bosatsu or the Buddha of Wish-Granting and is the largest clay Buddhist Statue in Japan which was made in the 8th century. The Oka temple is also known as Japan's first temple used to drive away Yaku or unluckiness. Prayers from pure heart to Buddha will bring prosperity and happiness. (Asuka Village)
・ Hakuho period (around 670-710 years when the capital was relocated to Heijo)
Most of the city area is plain land, and the elegant figures of the Three Mountains of Yamato, Mt. Unebi, Mt. Amano Kaguyama and Mt. Miminashi, are seen. The first capital in Japan.(Kashihara City, Nara)
Yakushi-ji Temple:In 680, Emperor Tenmu completed the project in Fujiwara-kyo (Kashihara City, Asuka Village) in hopes of healing the illness of the Empress (later Empress Jito), and is now Nishinokyo, Nara city.
・ Tenpyo era (around 710-794 of the Heian-kyo relocation)
Toshodai-ji Temple : Nandaimon, the south gate of Toshodaiji Temple, was built on the foundation of the original gate dating from the Nara Period about 30 years ago. From the gate, one can view the mainhall, which waas constructed in the 8th century, with its grand roof. In autumn, pretty flowers of the bush clover add charming colors to the precincts. (Gojyocho, Nara city)
Japanese missions to Tang China : From 618 to 907, the Tang Dynasty was a unified Chinese dynasty, and in its heyday, it ruled over the western desert of the continent.It was a superpower that realized the "One Belt, One Road" initiative that China is currently planning. At that time, Japan was one of the countries that admired and respected Tang Buddhism.
Kasuga Grand Shrine : Built in 710 as the family shrine of the Fujiwara Family, Kasuga Shrine has become famous for its graceful wisteria blossomes which almost sweep the ground at the south side of Utsushidono Hall. The rows fo approximately 2,000 stone lanterns along the pathways, and the over 1,000 hanging lanterns of the Main Hall and cloister create a breathtaking spectacle of lights. (Kasuganocho, Nara city)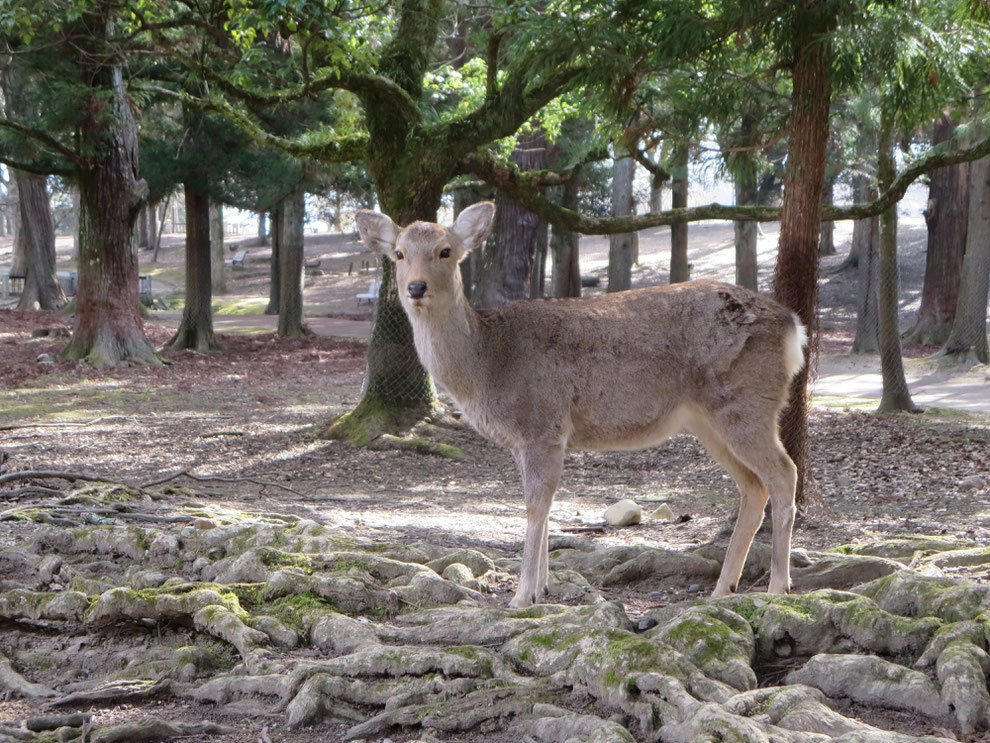 Heijo Palace Site :It was the vast capital of Nara, which was modeled on China's Tang capital, Ch'ang-an(currently Xi'a) in 710. It measured 4.3k, from east to west and 4.8km from north to south. Through archaeological excavation it was foud to be a centre of government, industry and culture. Now, vistores can understand why a capital was built here, as it affords a good view of Todaiji Temple, Mt.Kasugayama and Mt.Ikomayama. (Sakicho, Nara city)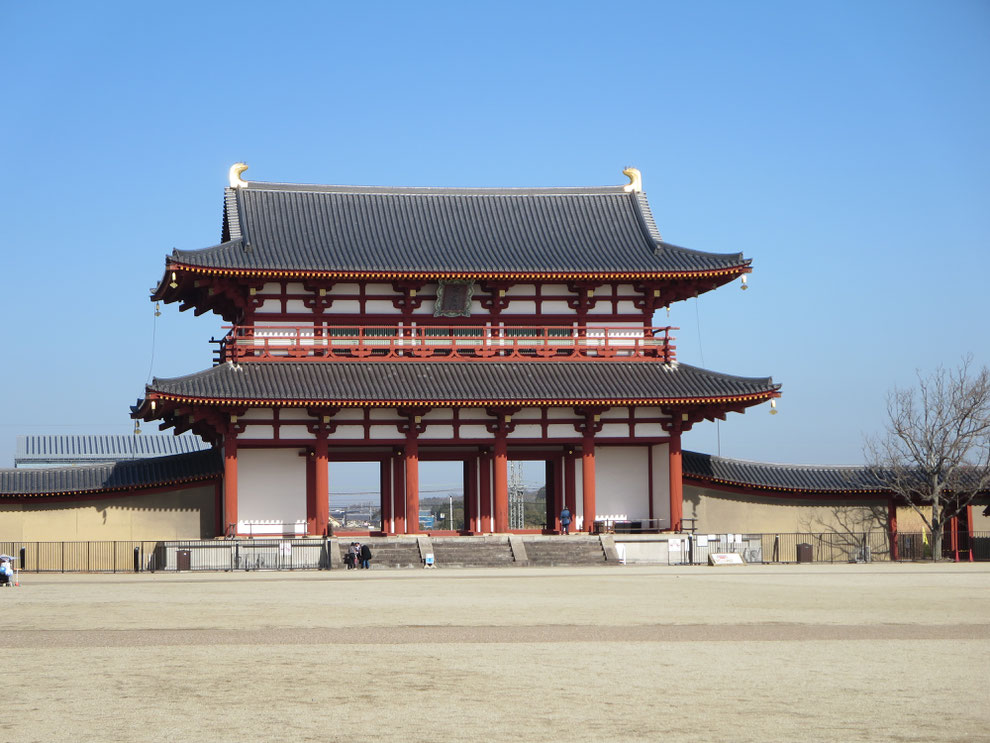 Kohfuku-ji Temple : It begins in 669, when Kagami no Ōkimi (d. 683) founded a Buddhist chapel, Yamashinadera, in modern-day Kyoto Prefecture to pray for the recovery of her husband Fujiwara no Kamatari (614–669) from illness. Built in 730, this pagoda has become a symbol of the Yamatoji(Passage of Nara) scene. It has suffered many battles and fires, and was rebuilt in 1426. The Pagoda is 50,8m(167.64ft) in height, and is an excellent example of the tempyo style of architecture.(Noborioujicyo, Nara city)
Todai-ji Temple : It is one of Japan's most famous Buddhist temples and a World Heritage site listed as "Historic Monuments of Ancient Nara. " This venerable temple was originally built as the headquarters of all the Kegon sect Buddhist temples by Emperor Shomu in 728. Its Great Buddha Hall, which is one of the world's largest wooden buildings, houses one of the world's largest bronze statues of Buddha. Zoshicho Nara City
---
Mt. Kasuga Primeval Forest
The forest covers part of the mountain ranges behind Mt.Mikasa, and is 480m above sea level. This area was protected originally as a sacred mountain, and today remains as Mt.Kasuga Primeval Forest. It is registered as " a cultural landscape". (East side of Kasuga Grand Shrine)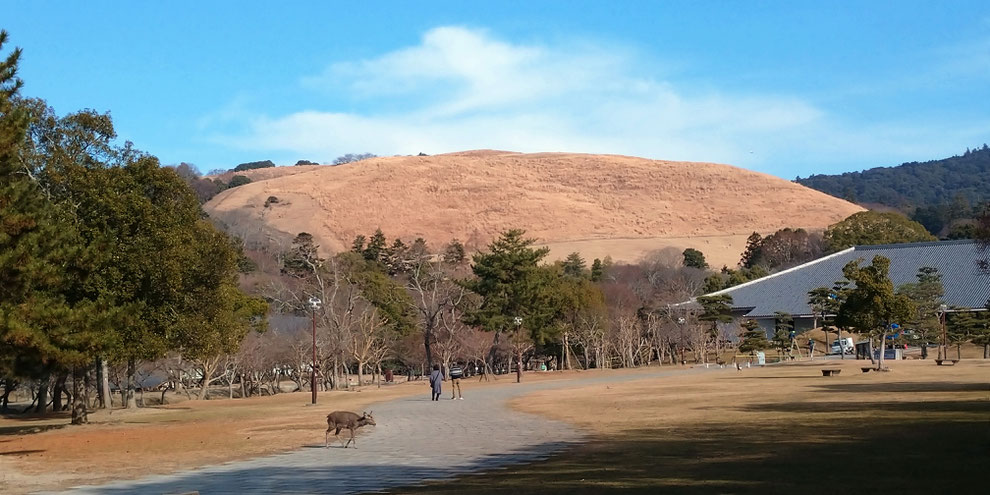 [Nara's scenic garden]
Isuien and Yoshikien gardens will take you back to old Japan through their immaculately maintained traditional sceneries. These two beautiful traditional-style gardens are located next door to each other in the center of Nara city. They are often overlooked in favor of bigger attractions around Nara Park, however, the gardens allow you to see a variety of traditional garden styles and changing landscapes all in a compact location.
<Isuien Garden>
This museum was constructed in 1969 in Isuien Garden (Japanese style borrowed landscape garden with a path around a central pond) which was bought in 1939 and organized by the Nakamura family, a shipping company in Kobe.
[Isui-en, a strolling garden with a wonderful view of Mt. Wakakusa]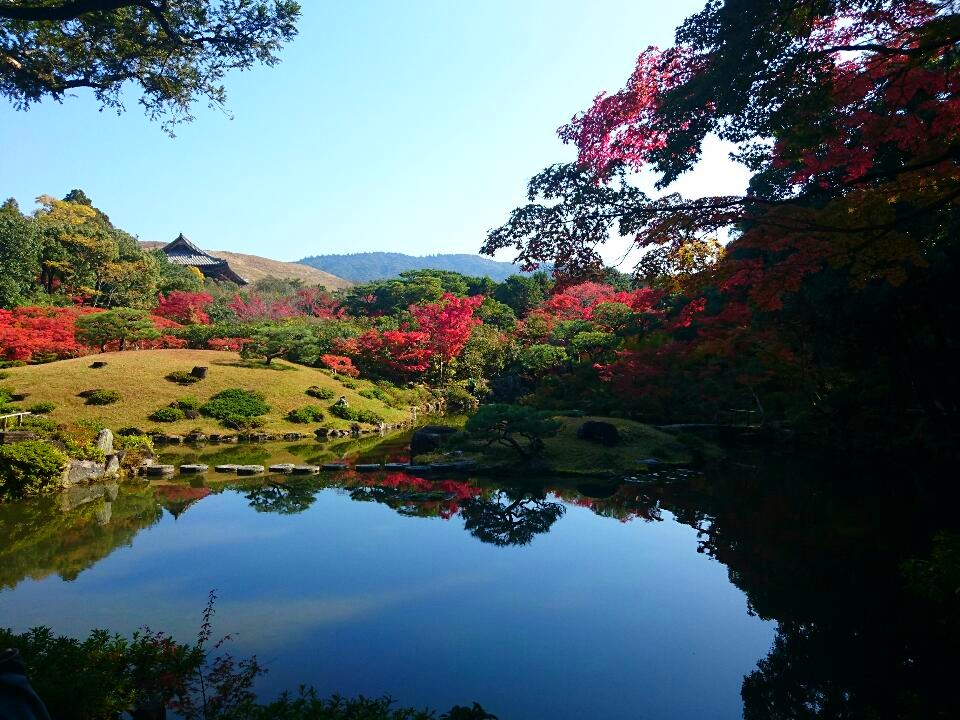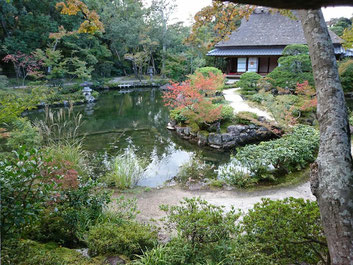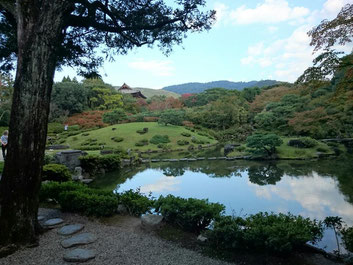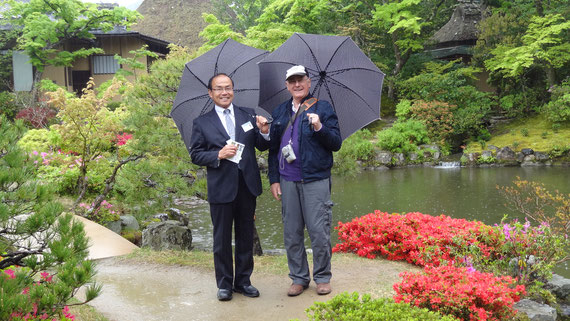 <Yoshikien Garden ,located next to Isuien>
Yoshikien is part of UNESCO World Heritage Site and a popular tourist destination.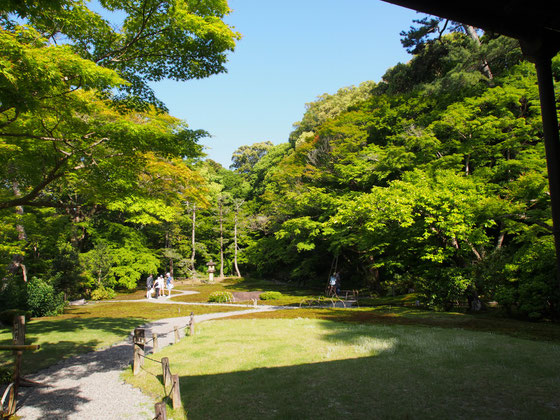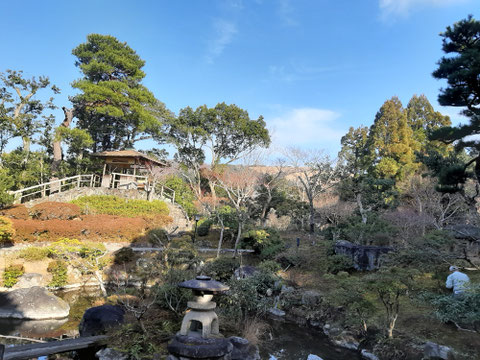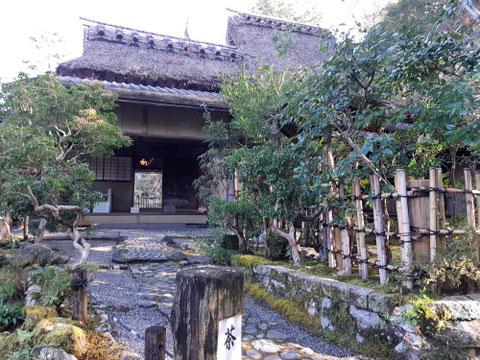 ---
<Former Residence of Shiga Naoya> *Japanese novelist, a literary master called the god of novels
It is located in a very calm and scenic place with a view of Mt.Kasuga. In the early Showa era, the modern Japanese-style architecture, which was designed by himself and is a mix of Japanese and Western styles, has a sukiya-style structure, and the garden has wabi & sabi world view.
<Irie Taikichi Memorial Nara City Museum of Photography>
A collection of all the works of Taikichi Irie, a photographer who loves Nara and has mastered its beauty (about 80,000 items).
A collection of gems that capture the beauty of Nara and Yamatoji, which is called the hometown of the Japanese mind, in a single still image and reach the point of lyrical photography.