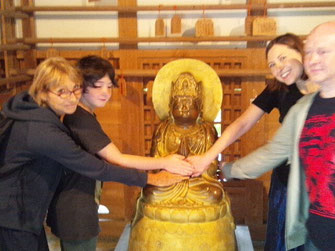 Dear Mr Nagata,
 We wanted to thank you so much for yesterday – everything was wonderful. You showed up some amazing places, and everyone had so much fun. It really made our stay in Kyoto very special.
Please let me know if there is a place we can leave a review about you , and I would be happy to do this.
Julie
 ** *** ** *** ** *** ** *** ** *** ** *** **
 Dear Ms. Julie,
 Thank you very much for your response.
I really appreciate that you enjoyed my guide.
Please give my best regards to your family.
And say hello to your cute son.
Sincerely Regards,
Nagata