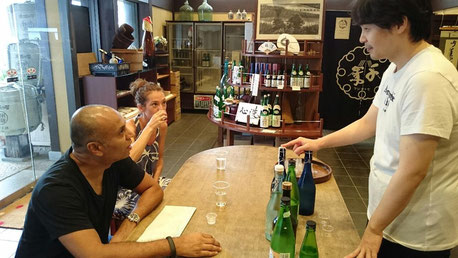 As my partner and I only had a short time in Kyoto we decided to hire a guide. We gave a summary in advance of the places we wanted to see and allowed Nobu San to make the best agenda. We had asked for Sake tasting, which he was not familiar with, but he researched this and returned with a wonderful recommendation that we would highly recommend for anyone to add to their visit. The brewery was 15 generation family run and they spoke perfect English. The grandfather was so pleased to have visited and was highly engaging. Our travel plans changed slightly in advance as Nobu San was very accommodating and picked us up from the station in the early morning and brought us back to our apartment at the end of the trip. We are so pleased that we decided to have a guide and very happy with our guide.
** *** ** *** ** *** ** *** *
Thank you very much for your great review.
Normally sake brewing starts from Autumn, fortunately we could see inside the brewery
and you could taste good local Sake.
Please give my best regards to him.
Best Regards,
Nagata