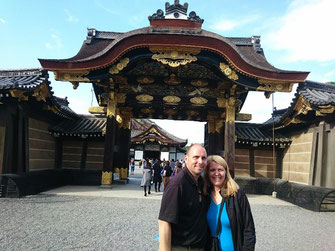 Dear Nobu,
Alexandrea and I wanted to thank you again for sharing your wonderful city.You gave so much of yourself, allowing us to not only embrace Kyoto, but also embrace you as well. We appreciated you sharing information of your family and your deep religious faith.The service you provided to us was outstanding.
Thank you again Nobu and we hope to see you again in our future visits.

Best regards, 
Ed and Alexandrea Gjertsen
** *** ** *** ** *** ** *** *
Dear Mr. and Ms. Gjertsen, 
Thank you very much for your kind review.
I always think that good hospitality is the most important thing for a tour guide.Your review makes me very happy.I was amazed your knowledge of Japan.We have many other good places.Please come back and let us conduct you again in the near future. I appreciate that you allowed me to use your review as a testimonial.
Best Regards,
Nobuaki Nagata