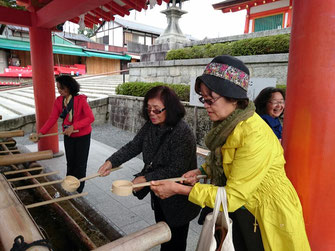 Nagata-san,
Thank you so much.  You made my trip to Kyoto memorable.
Your inside knowledge of Kyoto helped us to enjoy the beautiful autumn leaves.
The exercise climbing to Jingo-ji was healthy as well as the fresh mountain air.
The secret shrine in Nara was a delight.
Take care of yourself, your wife.
Best Wishes
Dear Mr. Nagata,
I enjoyed your guide very much.
With your help and your jokes, the long distance climbing to Jingo-ji seemed easier.
Thank you from the bottom of my heart.
Please send my regards to your wife.
** *** ** *** ** *** ** *** *
Thank you very much for having used me for your tour for three days.
I appreciate your gift and gratuity.
Your letter makes me very happy, all of you enjoyed my guide.
I hope we will meet again in the near future.
Please give my best regards to your friends.
Sincerely Regards,

Nobuaki Nagata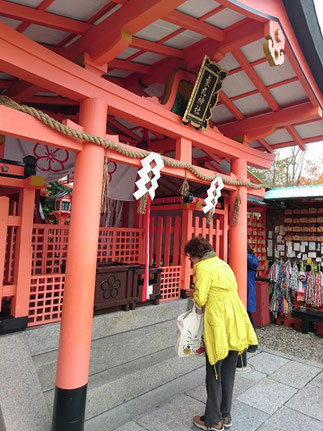 Azumaro Shrine, Fushimi Senbazuru is a string of a thousand paper cranes. It is usually sent to a person who is ill or injured as a prayer for recovery. The crane is symbolic of happiness and long life.