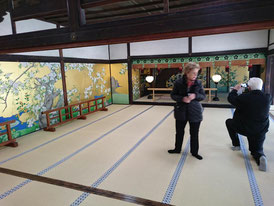 Dear Nobu,
Bill and I thoroughly enjoyed the tour on Friday. It was definitely one of the highlights of our trip. We will certainly contact you if we return and are giving your contact information to our son here in Atsugi. Thank you for sharing your knowledge and love for your beautiful city.
** *** ** *** ** *** ** *** **  
Thank you very much for your review.
I am happy to hear that you enjoyed my guide.
As you know, Kyoto has many interesting places to visit.
I look forward to meeting you again and let me conduct you to my favorite places.
I appreciate you introducing me to your son.
Please give my best regards to him.
Best Regards,
Nobuaki Nagata