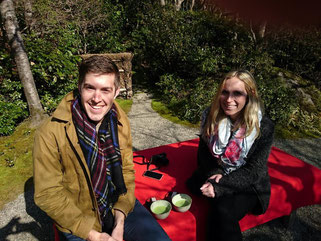 Mr.Nagata,
Thank you so much for the amazing tour around Kyoto today!
We had such a great time and especially enjoyed your off the beaten path selections.
Thank you also for your recommendation of where to see geisha. 
We went to the area at exactly the time you instructed and saw multiple groups of geisha walking. 
Please use my testimonial on your website.
I want everyone to join you for a tour when they come to Kyoto.
Best,
Calvin( Mr. Calvin Andrews)
** *** ** *** ** *** ** *** * 
Dear Mr. Calvin Andrews,
Thank you very much for your great review.
I am happy to hear that you enjoyed my guide.
I appreciate that you leave up your itinerary up to me.
Thanks to your cooperation, I could guide you to my favorite place, off-the beaten places.
You have good knowledge of Japan.
I could also enjoy our tour very much.
Please give my best regards to your beautiful girl friend.
May I ask a favor of you?
May I use your review as the testimonial of my website?
Your review is very helpful to me.
Best Regards
Nobuaki Nagata