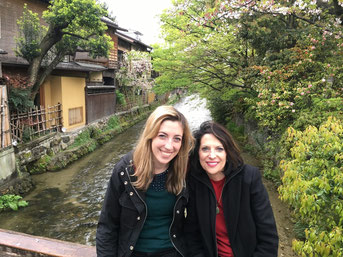 Dear Nobu-
I hope you are doing well!! Here is a review which you can place on your web site. You can change the words, if you like. Let me know if I forgot to put something in the review. 
I can't recommend Nobu enough!!!  My daughter and I spent two great days with Nobu seeing Kyoto and the surrounding area in his luxury sedan. I have spent time with many private guides and I can say he is the best. He is knowledgeable, fun, extremely courteous and so flexible with our changing requests! He knows off-the-beaten-path places, as well as the main tourist sites.  Also, he knows the best locations to take photos. I am so glad we chose Nabu. For questions, my email is here. Frances Ross, San Jose, CA
So remember when you took the photo of Lexi and I on the bridge and it was raining and we were feeling lazy? I have to tell you that picture ended up being Lexi's favorite!! Of course, I like it, too. Here it is: And, thank you, again!
** *** ** *** ** *** ** *** **   
Dear Ms. Frances Ross,
Thank you very much for your great testimonial which is perfect.
I think I don't need change the words at all.
I will place your testimonial on my website, it is surely helpful for me.
Thank you again for your kind testimonial.
Thank you for your one more e-mail.
You are very thoughtful.
I still remember there in Gion.
I told you that I conducted the chairperson of Paramount picture, and took a picture of her there.
Your daughter is very beautiful, please give my best regard to her, Ms.Lexi.
Sincerely Regards,
Nobuaki Nagata