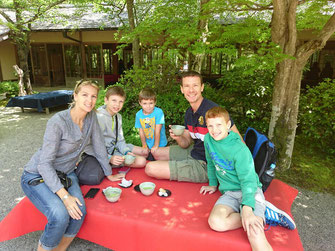 Dear Nagata,
This is my review of our tour.
We had 4 days sightseeing in Kyoto and were lucky enough to have a whole day (6 hours) with Mr. Nagata who was an excellent guide. He picked us up from our apartment door and his car was comfortable, warm and spotless! We asked that he take us to the sites out of the city center and he suggested a fantastic full itinerary. He was so knowledgeable about the history and customs (ancient and modern) and had a good sense of humor, which all in all made for a fun day. We would never have seen so much without his help.
The sights of Kyoto are fairly spaced out so engaging a guide/driver is a great way to get the most from your trip and way better than any bus trip. We had email contact with him prior to the trip and he was prompt in his responses so we were always clear that everything was booked as planned. 
We would have liked to have had Mr. Nagata for another day but he is booked up well in advance - so book now! 
Thank you Mr. Nagata
** *** ** *** ** *** ** *** ** 
Thank you for your great review.
I am pleased to hear that you enjoyed our tour.
Your sons are very young, I worried that they will got bored soon.
They are very smart and seriously listened my explanation.
I could also enjoy our tour.
Please give my best regards to your wife and your sons.
Sincerely Regards,
Nobuaki Nagata.