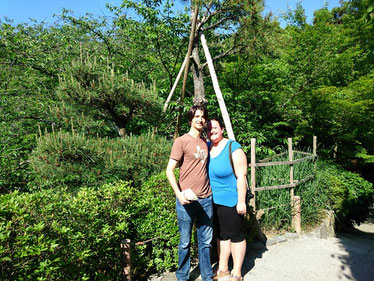 Dear Nobu,
The pleasure was all ours! Thank you so much for such a wonderful day - we loved everything we did and so appreciated learning more about Kyoto's storied history. 
I very much hope we can come back to Kyoto one day and see your favorite places.
Also - thank you for the geisha/Maiko tip! We probably saw 10 or 15 geisha/Maiko this evening and all were both beautiful and mysterious. Below is a photo I took - I bowed slightly to the woman in green and she bowed back:)

Warmly,
** *** ** *** ** *** ** *** **   
Thank you very much for having used me for your tour.
I hope you enjoyed my guide.
I appreciate your assent to my new itinerary,  I changed just when we meet in this morning.
I think I could show you some important places and off-the beaten tracks.
Both of you have good knowledge of Japan.
I want to show you my favorite places next time.
Please give my best regards to your husband.
Best Regards,
Nobuaki Nagata