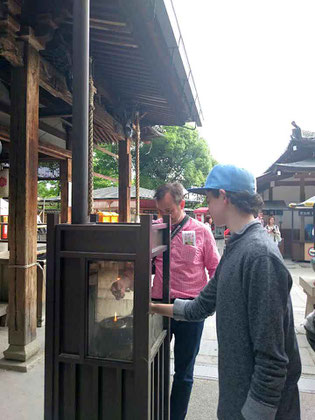 Dear Mr. Nobu-San
We had a wonderful time learning about Kyoto with you today. Truly a great honor. 
If you have a moment, would you mind to tell me the places in Nara which you recommend ?  
Thank you also for returning my phone. I would have much more difficult travels without it. 
Warm regards, 
** *** ** *** ** *** ** *** ** 
Thank you very much for having used me for your tour.
I hope you enjoyed my guide.
You are very knowledgeable and very friendly. 
You will go to Nara.
I would recommend you go to three places.
Todaiji( Grand Buddha statue), Kasuga Taisha( 2000 stone lanterns and 1000 bronze lanterns) and Isuien( beautiful garden).
They are inside Nara park which is walking distance from the Nara station of Kintetsu Line.
If you want to know more, please feel free to inquire.
Please give my best regards to your wife and children.
Best Regards,
Nobuaki Nagata