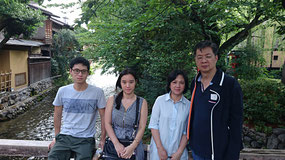 We (a family of four) booked Mr. Nobu for a day and had a fantastic experience.
He planned an enjoyable itinerary for us and was extremely knowledgeable about the cultural and historical aspects of various shrines/temples. 
He was simultaneously an excellent driver and guide, with a good sense of humor, refined manners, and a very accommodating nature. 
He knows Kyoto intimately and brings life to its ancient locations (ask him to bring you to the temple with statues of Buddha's many disciples), and has an impeccable sense of where many very specific shops (woodblock printing, tea, etc.) are located. 
We highly recommend taking a tour with him!
Justine Alexander