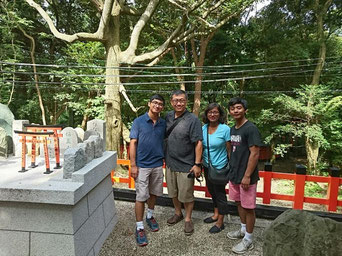 Dear Nobu,
We can't thank you enough for all your time, for all you taught us, your patience, your reliability, and your wonderful sense of humor.
We really enjoyed getting to know you and  the beautiful cities,  Nara and Kyoto.   We hope to come back--- there is so much more to see and experience.   We will certainly send any friends who are traveling to Kyoto your way.
Thanks again,
** *** ** *** ** *** ** *** **
Thank you very much for having used me for your tour for 2 days.
I hope you enjoyed my guide.
Both of you are very knowledgeable and friendly.
I could also enjoy our tour.
Kyoto has many more good places to visit.
I hope you will come back again in the near future.
Please give my best regards to your husband.