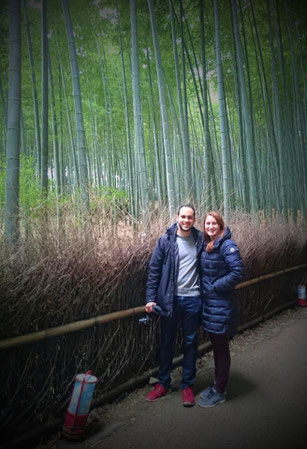 This review is for Nobuaki Nagata. My girlfriend and I were touring Japan for the first time in December 2016 and Kyoto was our first stop. 
Given the thousands of sites and only being in Kyoto for a few days, we thought a private tour was the optimal choice to be efficient with our time and get the most of our experience. 
We did a day tour (6 hours) with Mr. Nagata on our first day. We highly recommend Mr. Nagata. 
From the moment we started emailing Mr. Nagata about our trip, we were in good hands. 
He was very polite, prompt, and detailed with initial emails. 
He proposed a day of sites for the tour and also recommended sites for our second and third day to do on our own. 
Mr. Nagata arrived early, was extremely professional, and has a very comfortable car. 
He really takes the stress out of trying to figure out where to go, how to get there, what's the most important things to see, etc. 
We saw the main attractions but even off the beaten path sites which were some of my favorite. 
Above all, Mr. Nagata is such an honorable man. He practices excellence in everything he does and you can sense his passion for the job.
He is a government certified tour guide and while he is constantly booked,
when he does have free time, he spends it visiting new sites and learning more to further perfect his craft. His hard work and passion even gave me motivation for my own life and job. 
He also has a great sense of humor and it was fun to converse with him. 
While we only spent a day with Mr. Nagata, by the end of the tour, we felt like he was a long time friend and we instantly missed him when we parted ways. 
While seeing sites is important, I appreciated the little things and
spontaneous moments a personal tour with Mr. Nagata provided, such as my favorite moment when we were in a small temple and he was sitting
cross-legged in his suit with such flexibility and teaching us a few things about zen meditation. 
He also gave us restaurant recommendations and told us the best time and place to see geisha (we saw 10!). 
While we only did a day tour, you could easily book additional time/days with him. I have never written a review before, but felt so compelled to as Mr. Nagata's excellence should be recognized and appreciated. I recommend emailing Mr. Nagata as soon as you know your trip details as he books up quickly.
From Mr. Marcos Garcia.                          
** *** ** *** ** *** ** *** **
Dear Mr. Marcos Garcia,
Thank you very much for your great review.
I was surprised your review, it is really beyond my expectations.
Your review is surely helpful for my business.
I really appreciate your kind approval to put your wonderful review on my website as your testimonial.
I hope I will be able to meet you again in the near future.
Please give my best regards to your beautiful girlfriend.
Sincerely Regards,
Nobuaki Nagata